SelectQuote: Solution to a Fragmented Market
Deep-dive on insurance technology company, SelectQuote.
Profile
SelectQuote is a direct-to-consumer insurtech (insurance-technology) company. Their business is predicated on connecting customers with reputable insurance carriers. The company distributes insurance products on behalf of their insurance carrier partners who, in return, pay commissions to SelectQuote. To acquire customers, SelectQuote deploys a two pronged approach. First, SelectQuote's online platform provides users with unbiased comparisons of insurance companies allowing consumers to choose the policy and terms that best meet their needs.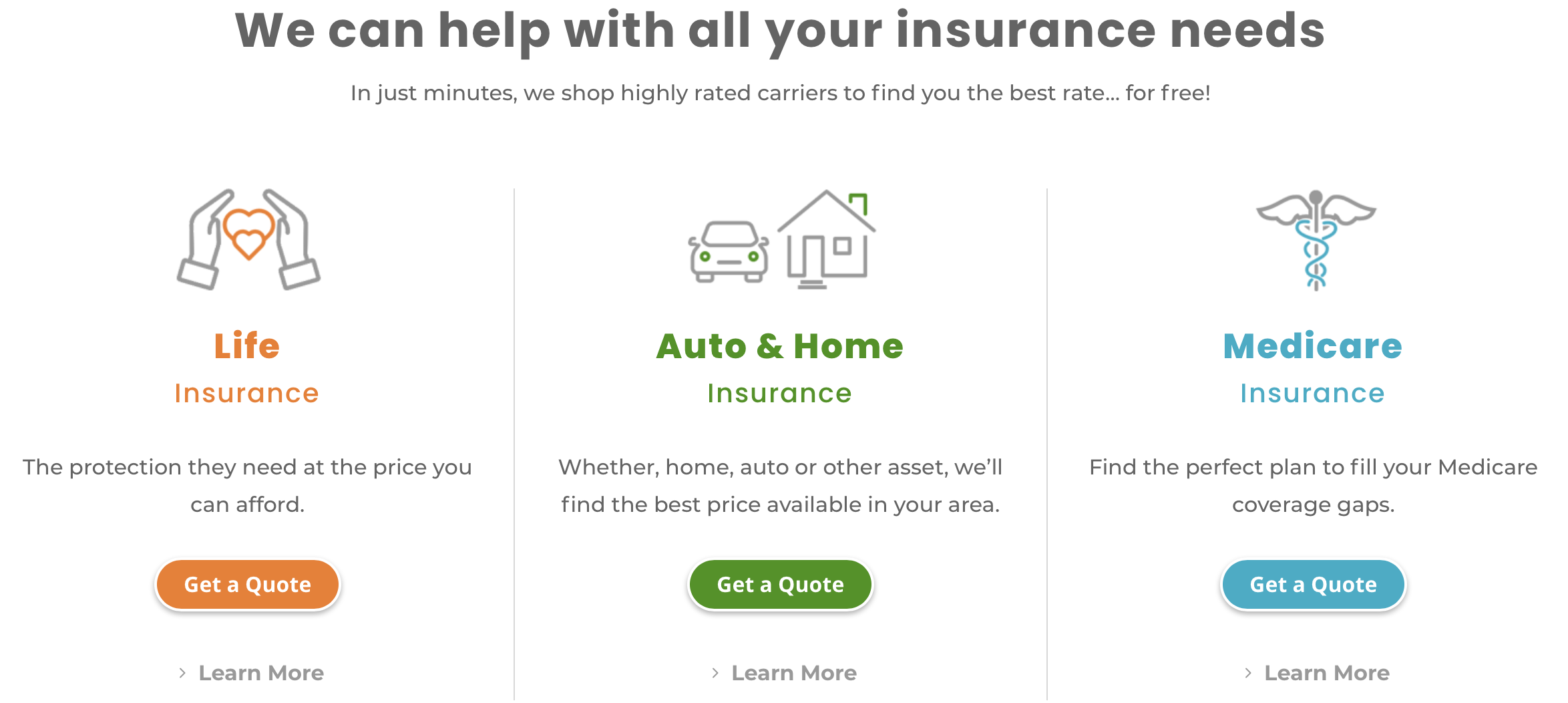 Second, SelectQuote's data science technology identifies the quality of each new lead to match users with the right agents. SelectQuote's internal agents are segmented into multiple levels based on their productivity; the most productive agents are given the highest quality leads. Once an agent and potential customer are matched, the agent guides the user through tailored policy options and provides education on complex senior health, life, auto, and home insurance products. This personalized approach enhances the customer experience and when customers are satisfied, their propensity to switch insurance policies decreases. This is significant because insurance carriers continue to pay commissions to SelectQuote each year for as long as the policy is active.
Foundational Pillars: Agents and Technology
SelectQuote's lead acquisition software continuously monitors customer acquisition costs (CAC) and dynamically adjusts bids for specific leads based on an algorithim which estimates the lead's lifetime value. As SelectQuote continues to operate, their pool of data expands which enhances their ability to accurately estimate a new lead's lifetime value.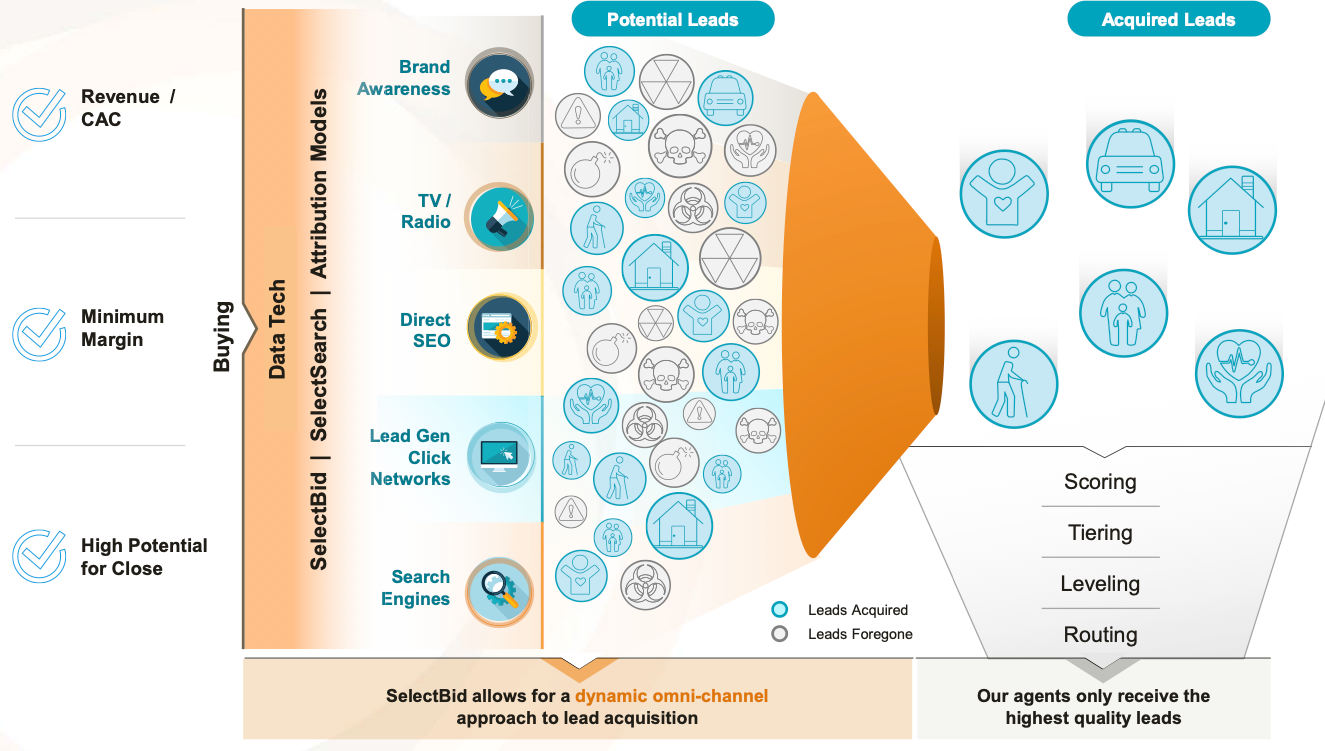 Regardless of how a lead is generated, SelectQuote's software scores each lead on a scale of 1-10, then routes the lead to the most appropriate level of agent to maximize expected lifetime policyholder value.
Once a SelectQuote agent is assigned a lead, they utilize their training, experience, and software to rapidly conduct a needs-based analysis for each consumer. The combination of SelectQuote's technology and skilled agents provides the consumer with price transparency and empowers them to make informed decisions, which leads to an improved customer experience that maximizes sales and customer retention.
The personal experience of working with a SelectQuote agent is further enhanced post-purchase by the use of technology. SelectQuote's customer care (CCA) team utilizes advanced algorithms informed by over 1 billion consumer and third-party data points to identify cross-selling opportunities for customers who are likely to purchase additional products, which subsequently improves customer policy retainment.
Growth
Building on its two foundational pillars, technology and agent workforce, SelectQuote has become one of the fastest growing insurtech companies. By providing users with an unbiased insurance comparison platform, SelectQuote can operate in multiple insurance segments and acquire customers at little to no cost.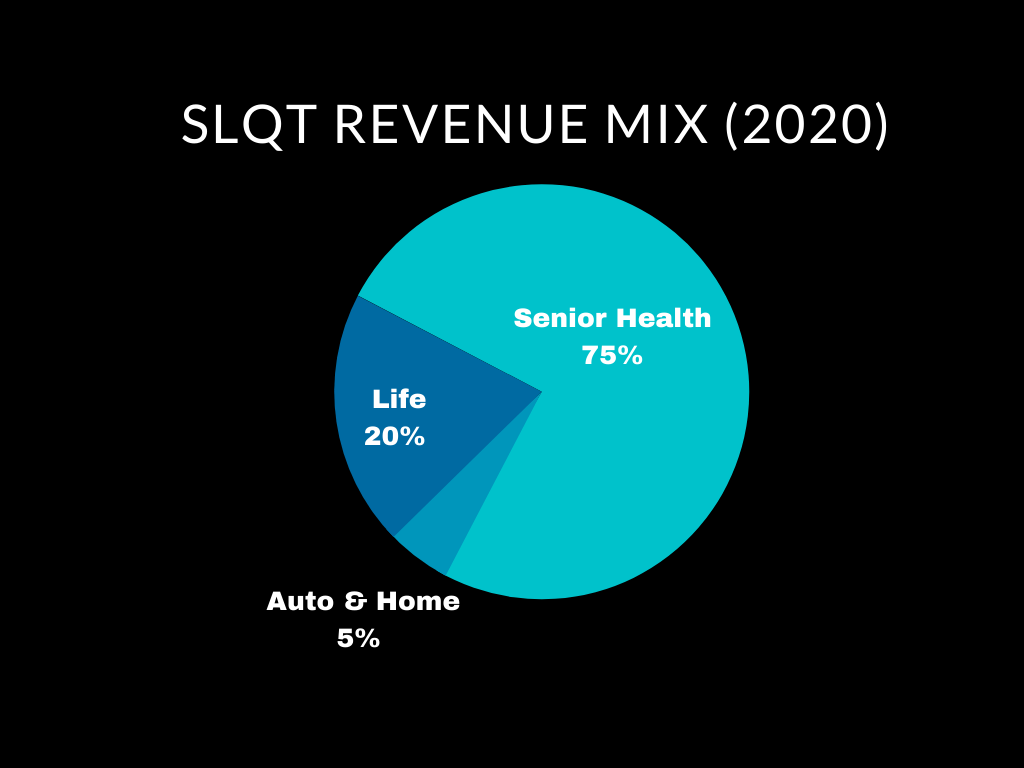 While SelectQuote has exposure to various insurance markets, the company is heavily reliant on its senior segment. The senior segment's revenue is derived from  health insurance policies under the Medicare umbrella. Generally, Medicare becomes available to Americans aged 65, where they have three coverage options: Original Medicare, Medicare Supplement, or Medicare Advantage. Original Medicare is federally administered healthcare for seniors. Medicare Supplement insurance plans work alongside Original Medicare, while providing some additional coverage. In contrast, Medicare Advantage plans are designed by private insurance companies, alternative to Original Medicare.
Now that we've understood the basics of Medicare and senior health insurance in the U.S., let's take a look at SelectQuote's growth in the segment.
SelectQuote's approved (sold) senior health policies are increasing exponentially and driving the company's revenue growth. From 2019 to 2020, SelectQuote's revenue from senior policies increased 127%.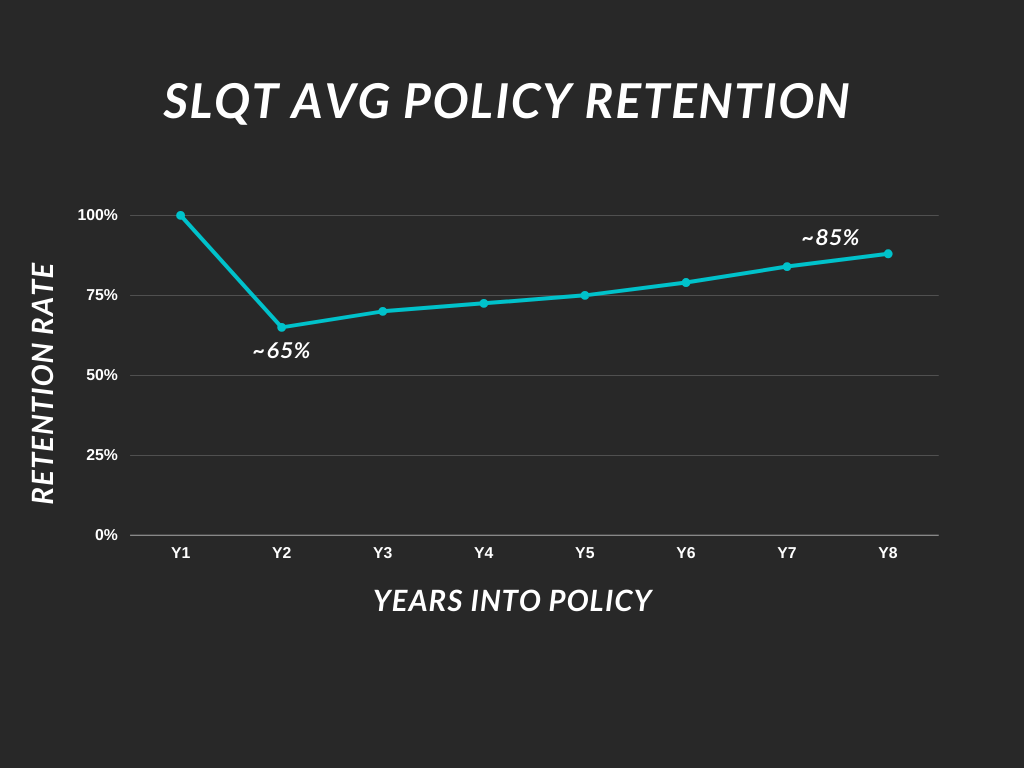 While the data is not yet public, SelectQuote's investor relations contact gave me rough estimates of their policy retention data. From year 1 to year 2, an average of ~65% of policy holders maintain their current policy through SelectQuote. Onwards from year 2, retention rates follow an incremental increase each year. Around year 7, average retention rates are roughly 85%. Meanwhile, SelectQuote collects commissions each year for as long as the policy is active.
Financials
Not only has SelectQuote demonstrated robust growth in its short tenure as a public company, they're expected to report staggering growth this year. From fiscal year (FY) 2020 to FY 2021, analysts expect SelectQuote to grow their revenues 76% from $532 million to $935 million.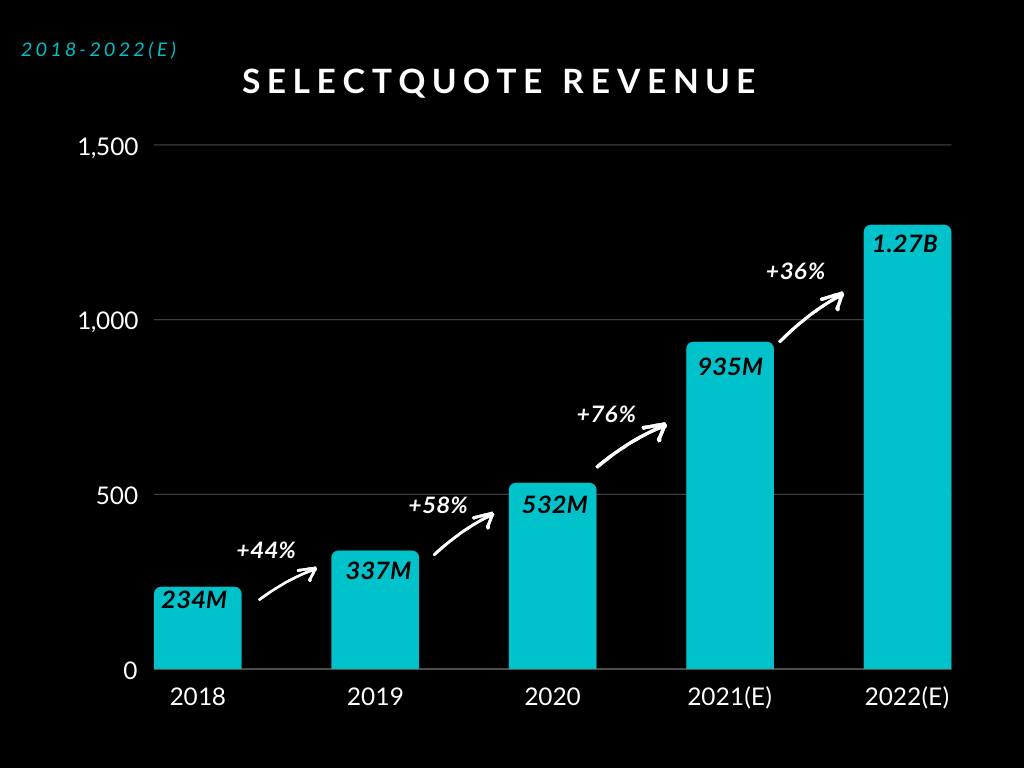 Since SelectQuote does not issue the insurance policy directly to the consumer, they bear no underwriting risks and are able to maintain high gross margins (72% in 2020). I expect SelectQuote's gross margins to expand incrementally each year as they continue to gather data which helps improve lead acquisition efficiency and sales productivity.
EBITDA stands for Earnings Before Income Tax, Depreciation, and Amortization.
Unlike many high revenue growth and gross margin businesses today, SelectQuote has already turned profitable. In 2020, they reported 26% EBITDA margin and 15% net income margin.
Valuation
SelectQuote estimates that it's total addressable market (TAM) is $180 billion for the insurance products it distributes. The company believes the TAM presents an annual commission revenue opportunity of roughly $28 billion for its seniors segment, $105 billion in life insurance, and $47 billion in auto and home insurance. In each of those three segments, SelectQuote estimates its market share to be less than 1% and thinks there is a lot of potential for better market penetration and market growth.
To assess the value of SelectQuote's potential future cash flows, I've performed a discounted cash flow (DCF) through 2025. Figures are expressed in millions of USD except per share items.

I arrived to a market capitalization of $9.9B billion ($61/share if they don't issue new shares). The model does not reflect potential value-add of additional revenue streams the company may venture into.
Potential Risks
SelectQuote benefits from the highly fragmented insurance industry in the U.S. If competition were to subside for insurance issuers, resulting in a market made up of only a few key players, SelectQuote's platform would inherently become less useful to consumers. This could lead to declining revenue and a contraction in market capitalization.
Additionally, investors should note that SelectQuote's business is highly seasonal. Medicare-eligible individuals are only permitted to change their Medicare Advantage coverage for the following year during October-December (Medicare annual enrollment period; AEP) and are only allowed to switch plans from an existing plan during January-March (Open enrollment period; OEP). "As a result, the Company's Senior segment's commission revenue is highest in the second quarter and to a lesser extent, the third quarter during OEP" (SelectQuote S-1).
Where to
For the foreseeable future, SelectQuote's growth relies on the enrollment of seniors in Medicare Advantage (MA) and Medicare Supplement (MS) policies. The chart below illustrates the projected increase of MA & MS enrollment compared to total Medicare enrollment, according to CSG Actuarial.
(Figures expressed in millions USD)
Despite SelectQuote's success, they still only account for a tiny fraction of the total market for Medicare Advantage and Medicare Supplement policies. For example, in 2018, SelectQuote enrolled just 0.3 million of the 35.7 million total enrolled for such plans, providing ample room for growth.
From here, SelectQuote is positioned well to benefit from various macro effects.
1. Continued growth in total Medicare enrollment (60 million in 2018, 68m projected in 2023, and 77 million in 2028)
2. Increased penetration of Medicare Advantage enrollment as a percentage of total Medicare enrollment. In 2018, Medicare Advantage enrollment represented 33% of total Medicare enrollment. By 2025, this is expected to reach 50%. Between 2030-2040, Medicare Advantage enrollment is expected to reach up to 70% as a percentage of total Medicare enrollment.
Lastly, I expect SelectQuote to achieve substantial growth through consistent gains in market share as a result of their superior distribution of insurance products.
---
Follow along if you're interested in learning about financial markets, innovative companies, and potential investment opportunities. You can stay up-to-date by subscribing, in order to get each post delivered to your email.